As an organisation we believe that the permanence of the Green Belt is vitally important. However it is increasingly under threat, both nationally and locally.
Green Belts: breathing spaces for people and nature
England's 14 Green Belts cover over a tenth (13%) of the land, and provide a breath of fresh air for 30 million people. Altogether, 60% of the population lives in the urban areas within Green Belt boundaries. Bristol and Bath are very fortunate to be surrounded by the Avon Green Belt, which is what has contained these two cities, kept them so distinctive, and allowed the countryside to remain within easy distance of all our city dwellers.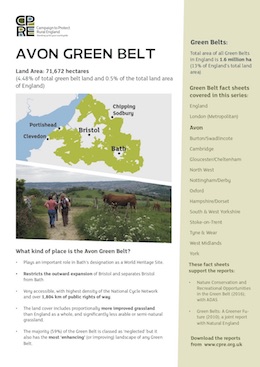 Download our factsheet on the Avon Green Belt and find out more about your local green spaces
Green Belts are a buffer between towns, and town and countryside. Within their boundaries, damaged and derelict land can be improved and nature conservation is encouraged. The ever-increasing pressure on land for more roads, housing and airport expansion means that it is vital to protect the Green Belts that we have. Over 800 hectares a year of this land is disappearing under new developments.
What happens when Green Belt is lost?
When we lose open Green Belt land, we lose more than just a view, a space to run or play, an easy escape from the city or valuable farmland. We lose land that has its own identity and plays its own role in England's heritage.
Green Belt land is important for our wider environment, providing us with the trees and the undeveloped land which reduce the effect of the heat generated by big cities. Instead of reducing this green space, we should be using it to its best effect. We know from our research that three quarters (79%) of the population would like to see more trees planted and more food grown in the areas around towns and cities. Green Belt land is ideally placed to do this – providing more local produce which will help the environment again, by reducing food miles.
The openness of Green Belt land needs to be cherished and protected permanently. That way, Green Belts will protect our countryside and help regenerate our cities.
Local threats
We are concerned about the pressure on the Avon Green Belt from both housing and retail development.
South Gloucestershire's Core Strategy proposes the construction of a minimum of 28,355 houses in the years to 2026. Some of these will be built on land which is being removed from the Green Belt on the North Bristol fringe. During the consultation on the Core Strategy we objected strongly to these proposals.
The BANES Core Strategy allows for land to be removed from the Green Belt at 4 locations at Whitchurch, Keynsham and the edge of Bath to provide for housing developments.
In North Somerset the new link road cuts a swathe through Green Belt land to the south of Bristol at Ashton Vale, an area which is constantly the subject of urban extension plans. The challenge to the Core Strategy by Bristol University in 2012 has resulted in a decision to double the amount of housing to be built in North Somerset to 2026, despite our concerns about unsustainable locations.
We are strong promoters of a brownfield first approach, which allows development to be prioritised on suitable brownfield sites before encroaching on our local Green Belt and green field sites. See 'From Wasted Spaces to Living Spaces', research for CPRE by University of the West of England - including a case study of Bristol, and 'Better Brownfield', part of CPRE's 2015 Housing Foresight Series.
These are two CPRE reports on utilising brownfield land that can be downloaded for free: