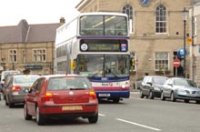 Transport policy
Walking, cycling and public transport are all sustainable forms of transport which we need to be able to use as much as possible. We need to plan our transport so that it close to where we live and work.
Bristol Airport is proposing an doubling of passenger numbers and more, in this latest consultation. An expanded Bristol Airport would be a disaster, not just for the sub region's environment and transport infrastructure, but also for England's economy as a whole, encouraging more housing and transport infrastructure in the South of England, and negatively impacting on the balance of the UK economy.
CPRE Avonside objects to the scenarios for expanding the Airport as set out in 'Your Airport: Your Views, a world of opportunities; Preparing a new Master Plan: Public Consultation November 2017'
CPRE Avonside responded to the West of England Joint Transport Study "Transport Vision Summary Document, November 2016"