The cake was made locally by a Country Market member and looked and tasted delicious. We also heard a fascinating talk from CPRE Campaigner Graeme Willis, on the Future of Farming post BREXIT.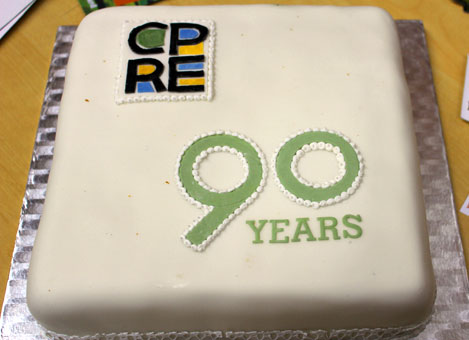 Graeme Willis has just written a thoughtful and forward thinking Farming Foresight paper for CPRE, entitled New Model Farming: Resilience through diversity which is stimulating debates about the future of farming, why it matters to the countryside, and what should be the future of its funding once we leave the Common Agricultural Policy. This was a fascinating presentation, and raised many interesting questions from the audience about the realities of farming, and what kind of farming future we want for our beautiful countryside – much of which is reliant on particular farming practices for its landscape and biodiversity.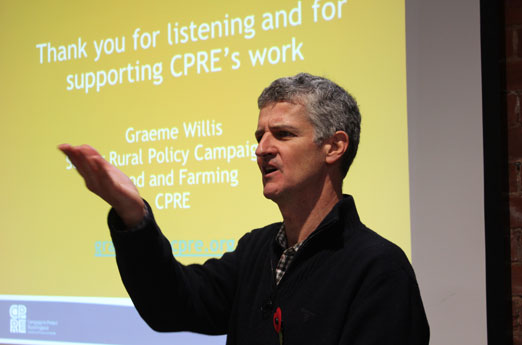 Farming faces many challenges, economic, political and social. It provides us so much, a secure supply of food, beautiful landscapes for us to enjoy, a home for wildlife, a means of filtering and storing water, a store for carbon, and is very much rooted in rural communities and local character and distinctiveness. Yet, there is also the threat of environmental damage and a future that could be leading us to mono-culture in our landscapes, disappearing wildlife, river and coastal pollution, degraded and eroded soils, and green-house gasses and climate change. We need to ensure that farming has a strong and viable future and that we encourage diversity in farming. This requires a progressive funding approach that supports farmers in need, public payments for public benefits, addressing market failures and paying for what the market won't, thinking across whole landscapes through a holistic approach, and reducing the risk of and increasing our resilience to climate change.
Farming is vital and it has an important future in this country. We need to engage now to help shape that future so that it can look after what we value about the countryside.
"Where I come from, when the landscape is stunning, it's because nature made it that way. In England when it's stunning, it is, more often than not, because farming made it that way."


Bill Bryson, as President of CPRE, CPRE Vision for the future of farming, 2012