A report produced by CPRE Avonside.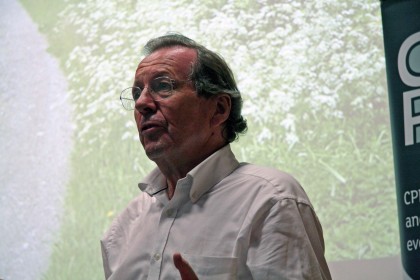 George Ferguson speaks to members at CPRE Avonside's AGM about how we can protect the countryside by making cities better places to live. Photo credit: Les Forrest
George Ferguson (GF) was pleased that CPRE was holding its AGM in Bristol as he is devoted to the relationship between city and countryside. As an architect he believes in creating buildings that add to the community rather than being mere iconic objects, and that the role of 'mayor' is about the place not about party politics. It is important to be involved in the place where you live and work. GF has a long history of involvement with Bristol and believes that in order to make changes, a decent length of time in office is essential. There are many challenges facing the city: it has expanded beyond the area defined by the boundaries of 'Bristol' especially into South Gloucestershire. Whilst its population is around ½ million, the city region including the area from which its food is obtained and waste disposed of has around 1 million people. This is an ideal size and Bristol is the most attractive of the 8 cities outside London. It is growing, attracting a new population and contributes to the UK's GDP. How we allow this growth to take place is important. Densely populated urban areas can be more efficient allowing for better transport systems. In Europe 80% of city dwellers live in apartments unlike the UK. Good planning, making the best use of buildings and brownfield sites rather than cramming is what is required. Only 2/3 of Bristol is built on: 1/3 is open space and water, which creates much diversity of wildlife. We need to build on this and link leisure with greenways and the countryside.
Some areas outside the city, trapped between the urban area and motorways for example, may have less worth and could be developed, but GF is against urban sprawl. Growth elsewhere should be guided by the local community in its own right. He believes in 'real countryside' as a resource for leisure, education and food with responsible farming. 95% of farming around Bristol is by large operators who truck the food out of the area. We need to relate the food producers more closely to the consumers: some children have never seen a cow or had a freshly cooked meal.
Bristol will be the Green Capital in 2015. This is an opportunity to address issues such as climate change, flooding, and affordable living (including food and energy supplies). GF is in favour of renewable energy but aware that this may impact on the countryside. He is proud to have the UK's only local authority owned wind turbine in Avonmouth where turbines actually improve the look of the site although they are not appropriate everywhere. Bristol is developing solar power faster than other UK cities and is engaged in insulation of housing. These measures will help to improve air quality. Transport is a huge issue: 90% of cars only have 1 occupant and the city is not designed to cope with the growth in number of private cars. GF wants to encourage people to think more about how they travel and the impact this has. Above all he would like to leave Bristol in better physical and mental health: the countryside has much to offer for both. Despite Bristol being one of the most prosperous areas outside London, there can be a 9 year differential in life span depending on whether you live in Henleaze or Southmead, Knowle or Stoke Bishop. The divide can be a result of air pollution, unhealthy eating, depression and lack of employment which affects health and well-being. It will take time to reduce this divide: it will be impossible in his term of 7½ years but GF hopes to make a start.
The solution partly lies in access to 'good' countryside. The Bristol area has a range of contrasting rural areas, all beautiful: the Mendips, South Gloucestershire, pretty villages. These could allow development if done sensitively in a way which is sustainable. The rural areas need to flourish and recover the services they need rather than just being satellites relying on somewhere else. Only politicians see boundaries: Bristol needs to be planned as a region not as separate places. We owe it to our children to provide good places to live: if a place is good for children then it is good for all of us and the future.
The talk was followed by a lively 'question and answer' session:
Q: Why doesn't Bristol have trams and an integrated transport system of trams, buses and trains as found in parts of Europe?
A- In Europe 30-40% of the tax base is retained locally whereas only 5% is in the UK. Local areas then have to fight to get money back from the central government. In the 1980s Margaret Thatcher deregulated transport: the Bristol area has 12 different bus companies which operate on routes which are commercially viable. The council can subsidise or operate buses on the uncommercial routes but routes are not publicly planned. The funding allowed for Greater Bristol's transport is £400m whereas the superb tram system in Bordeaux (quiet trams with no overhead wires crossing through historic areas) cost £3000m. Dublin also retains more of its tax income. Whilst Nottingham has introduced a tram based on work-based parking charges (controversial in themselves), Bristol's needs are more complex and costly. London has an integrated transport system and is more in control; it subsidises public transport making it much cheaper- we could not afford this in Bristol. It is planned that £200m will be invested in trackless trams and dedicated bus routes, and £200m in a suburban railway system in Bristol.
Q: The reason why there is congestion in Bristol is that people from surrounding areas have to travel in by car as the rural bus service is infrequent, slow and expensive.
A- We have good Park and Ride systems with new services at Parkway and Long Ashton connecting not only with the city centre but also Clifton and Southmead.
Q: Most new houses in the countryside are built on greenfield sites. Many in North Somerset are being developed to provide housing for people who work in Bristol. Why isn't Bristol building on its brownfield sites instead of spoiling our countryside?
A- When appointed as mayor GF set up commissions on Fairness/Education and Skills/Sport/Affordable Homes. He agreed that the city's housing could have been developed at higher density. There is a plan for many new houses and flats in Whitchurch/Hengrove mostly on the airfield and for 7000 homes on Filton airport in South Gloucestershire, but there is a need to find more sites that could be altered to accommodate extra housing. There is more scope for building in Bristol- there are many small sites and some inefficient council housing areas could be redeveloped to provide more homes at the same time as improving these areas. More employment is needed in the villages and small towns to reduce the satellite nature of these as well as improving transport.
Q: How is the Energy from Waste scheme progressing? Why is there a lack of control over what houses are built and where?
A- Bristol has done much to reduce amount of waste going to landfill- only low levels now. GF very much in favour of waste to energy but not incinerators: 'New Earth' at Avonmouth has low emission levels. The plant uses separation and pyrolysis and takes plastics as well as organic waste.
The government judges local authorities on the number of planning applications approved rather than the number of houses actually built. Large developers often speculate on housing/land prices leaving land vacant until conditions are favourable to them. Phased development would be preferable as would a mix of a variety of smaller developers. The local authority does not have the same level of control as for example is found in Germany. The definition of 'affordable' housing is inappropriate (deemed to be 80% of normal cost); there is a need for more council houses.
Q: What changes will there be when Bristol becomes a Green Capital?
A- The title will draw attention to Bristol's many outstanding qualities. GF wants there to be more in Bristol's school curriculum about the environment which will feed into the National Curriculum. He wants to give each primary child a tree to plant working with the local community to decide what species and where to plant it. He would like more food growing projects and education about food. Working with Avon Wildlife Trust the Avon Gorge could be promoted on occasions for weekend leisure activities. Bristol is already a hub for clean energy technology; GF would like to draw attention to this, expand it, and offer a 'Clean Technology' prize. The programme will be announced next week.
Q: Is there a binding agreement between Bristol City Council and North Somerset for building the South Bristol Link ring road?
A- GF doesn't like the road but there would be high penalties if Bristol caused its cancellation. If both North Somerset and Bristol agreed to cancel, it would be less of a problem but the whole of the old Avon area and the Transport Authority would have to be consulted too. GF not against MetroBus which should contribute to relieving congestion.
Q: If it were possible how would you change the powers of city mayors?
A- GF would want to be able to change/review the city's boundary. He would like to see real devolution with the city in control of its own future (freedom to make its own mistakes!). He would like to be able to retain 1/3 of the tax base to allow more financial independence from central government. Local governments are often more efficient than central government!
Q: Will you increase food production in parks?
A- Yes. GF would like to revert to having park keepers as in the past - they really care about the place, educate the public and know who the local trouble makers are and how to deal with them. He quoted Steve England of Stoke Park as a role model and 'conservation hero'.
Q: How would you like to see the planning system changed?
A- At present, presumption is in favour of the developers. The mayor is not involved in day to day planning issues (dealt with by councillors) - just the strategic plan. More pro-active planning is needed rather than waiting for applications to come in. GF wants this to happen in the Temple Quarter Enterprise Zone.
B- Vic Adie, Chairman of CPRE Bath and North East Somerset, referred to a meeting in Bath (see website: www.cpreavonside.org.uk) on October 23rd where all the main political party candidates will be present. Pressure should be put on them to change the current planning policy.
Q: Will you do everything you can to get the Arena for Bristol?
A- YES!
Q- As 1/3 of Bristol is parkland, yet more housing is needed, may some of this be lost?
A- No but we need to create higher density housing. This does not mean low quality. High buildings don't necessarily bring high density as there are often large empty spaces between them. Bath and Clifton both have high density but high quality housing.
Q: Will you revive the Hydrogen Ferry?
A- GF is in favour of researching new ideas. This was a nice project but there is no reward for Bristol in funding it. Hopefully it might be picked up commercially.
Q: As the bus companies are not controlled by the council, couldn't the council set up a community share offer in order to start a bus company? (e.g. UWE worked with Wessex to build their own service then later joined with University of Bristol- they offer better fares than First Bus)
A- GF stated that he is the only leader of the former counties of Avon in favour of an integrated transport authority. The other areas think it would be too expensive. Central government needs to be lobbied on this issue. Car sharing needs to be pushed more as successfully used by the Dyson firm (this is sociable as well as more efficient).
Q: Will the Bristol mayor sign up to the Mexico Pact?
A - GF promised to look up what this entails.
Q: Why have the ferry companies stopped doing round trips?
A- The yellow ferry company wants this but others do not. The public must put pressure on them to change.
Q: Why does the Park and Ride close so early in the evening?
A- GF in favour of expanding the hours of operation but presumably there are insufficient passengers to make this commercially viable.
Many more questions would have been forthcoming but as George Ferguson had already spoken beyond the allotted time, Georgie Bigg, Chairman of CPRE Avonside, brought the meeting to a close at 9.15 pm. She noted that George Ferguson's ideas were very closely aligned to those of CPRE: we both have similar priorities and would welcome the opportunity to work closely with him. We all believe in the importance of making an area productive, viable and a good place in which to live. Many of our members live in Bristol and are concerned about the countryside. GF thanked everyone for being such a good and challenging audience and promised to take on board the issues raised.
Thank you to Gill Sammons, Secretary of the CPRE North Somerset District Group, for her excellent note taking.
November 2014