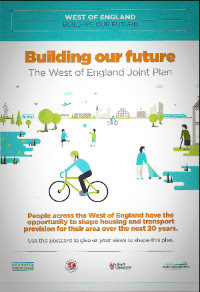 The consultations set out aspirations for new housing, infrastructure and transport needed in the area in the next 20 years. Current estimates (based on the West of England Strategic Housing Market Assessment (SHMA)) state that we will need at least 85,000 homes by 2036 – 29,000 more than is already accounted for in local plans, existing permissions etc. The need for affordable housing is great, and is at a much higher proportion than is currently being delivered in this area.
In parallel with the Joint Spatial Plan, the Joint Transport Study is looking at the high level strategy and delivery of major transport schemes throughout the area until 2036. It asks people who live and travel in the West of England (the old Avon county) what they think are the key transport issues affecting the area and the sort of transport solutions we should look at over the next 20 years.
Georgie Bigg (branch Chairman) and I (Sophie Spencer, Director) attended a consultation event in November, at the University of the West of England. We were joined by the Chairman of the CPRE Bath and North East Somerset District group and a new CPRE volunteer from South Gloucestershire. It was well attended and we had the opportunity to listen to details of the plans and start off the discussion. Of course, there are many interested parties who want different things from the plans.
The Joint Spatial Plan states that the focus for new housing should be on previously developed land, and that the aim is to make best use of urban sites and minimise the need for development of green spaces. This is a good start, but it does not, of course, rule out development on green spaces, including Green Belt land. Those preparing the plan suggest that this is inevitable, as there is not enough brownfield land to support the number of houses required. CPRE believes we need more homes, but that we need them in the right places, and more of them need to be affordable homes. The challenge of this plan for CPRE in the first instance is to ensure that there is a mechanism to ensure that new homes are built on brownfield land first, and that the proportion of affordable housing is vastly increased.
As well as homes to live in and means of transportation, we also need to eat. There is no mention in the Plan about local food security and protecting high quality agricultural land for growing food. Nor is there anything about the kind of infrastructure needed locally to ensure that we can access high quality, locally produced food, more sustainably from our own Green Belt.
The deadline for responses is the 29th January 2016. We want to make a single joint CPRE Avonside response to these consultations, but we need your input! Please come along to our workshop on Monday 11th January 2016 at the Jubilee Pavilion, Keedwell Hill, Long Ashton BS41 9DP (just behind the Long Ashton Community Centre) from 12.30-3.30. The event is free, just bring along your own lunch. To book, email This email address is being protected from spambots. You need JavaScript enabled to view it..">This email address is being protected from spambots. You need JavaScript enabled to view it..