Graeme Willis, CPRE's Food and Farming Campaigner, gave a thoughtful and interesting talk on the Future of Farming in England, from his new Farming Foresight report, New model farming: resilience through diversity.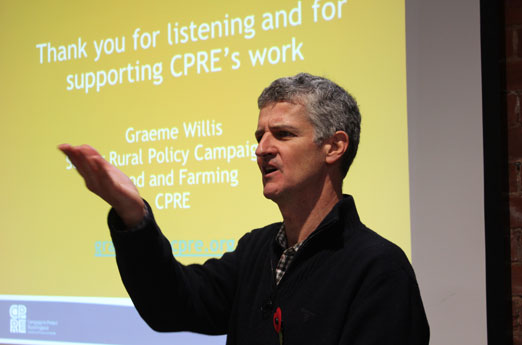 Graeme Willis speaking at CPRE Avonside's 2016 AGM. 'To forge a more resilient future, the Government should encourage a mix of farms that produce different foods for local people and varied, thriving landscapes.' New model farming: resilience through diversity, CPRE Food & Farming Foresight paper 1
Planning for housing and transport across the Avonside area to 2036
In July we ran an event to discuss the planning issues facing local communities and the proposed plans for our area with a speaker from South Gloucestershire District Council, Brian Glasson, and Shaun Spiers, CPRE's Chief Executive. We had a great turnout, with many people voicing their concerns.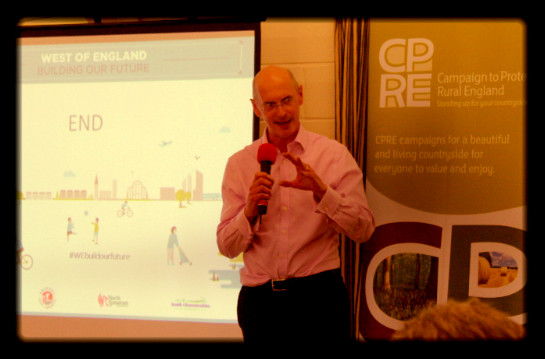 Shaun Spiers pictured at our 'Villages Under Siege' event in Flax Bourton this summer.
'CPRE's volunteers really are the sunniest people, most of the time. But a planning system that is realistic about what is likely to be built, and which pays as much attention to the quality and location of development as it does to economic growth would make them even sunnier.' Shaun Spiers blog, September 2016
Our next challenge is to respond to the two latest consultations on the future housing and transport plans in the West of England (which covers the old county of Avon). This process, which started back in 2015, is vitally important to the future of our local countryside, and we have already engaged fully. You can read our initial transport and housing responses on our website, and the recently released West of England consultation here.
The outcomes of the initial consultation were encouraging, showing public support for protecting the Green Belt, maximising the use of brownfield sites, and maintaining or enhancing environmental quality. We do, however, have deep concerns about both the plans, including how we ensure that brownfield sites are developed first, before allocating our precious green field land; how we ensure that developers provide the high proportion of affordable housing needed; and how we make sure our local landscapes are given the recognition they deserve. We are supportive of the need to build more houses locally, particularly affordable houses, but we don't believe that just allocating more greenfield land will achieve the houses we need in the most sustainable locations. Our local landscapes are well loved. They are what makes our area desirable as a place to live, and ultimately contribute to it's economic attractiveness. We need to ensure that we don't lose what is special and distinctive about our area in this process.
In transport terms, we are concerned by plans for more roads and more park and rides. We want to see an integrated and forward thinking transport policy that allows people to leave their cars at home, and maximises the use of effective public transport.
The closing date for the consultation is 19th December 2016
Free workshop for CPRE members
We will be running a workshop in Long Ashton on the morning of Saturday 26th November to discuss our CPRE Avonside response to the consultations.
A West of England local authority Planning Policy Manager will be giving an overview of the plans and answering questions and we will have a planning expert from CPRE's national office.
All CPRE members are welcome.
Please contact Sophie Spencer at This email address is being protected from spambots. You need JavaScript enabled to view it. or 07854 741130 asap if you would like to attend. Please note places are limited.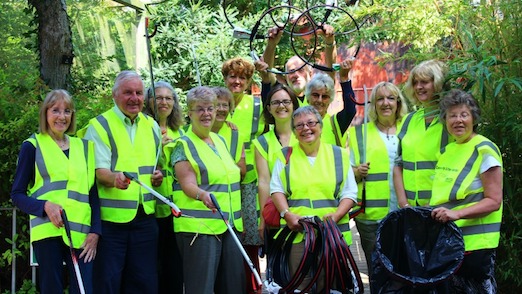 Launch of Community Litter Warden Scheme for Bristol
In June 2016 we launched our Community Litter Warden campaign, handing out dozens of litter pickers, gloves, hi-vis vests and bag hoops to Litter Wardens and their teams across Bristol. This scheme was funded by Bristol Green Capital 2015 and is a fantastic way to tackle the problem of litter in Bristol's neighbourhoods, and raise the profile of CPRE in the city. The voluntary Litter Wardens and their teams are doing a great job, and were enormously grateful for the equipment, and the £100 Bristol Pounds, we were able to give the. They are regularly collecting litter from Bristol's streets, green spaces and waterways.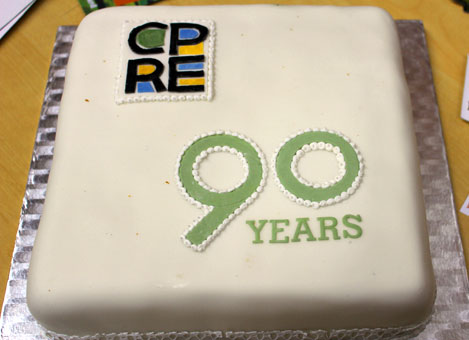 Our CPRE Avonside 90th birthday cake, made by a local Country Market baker, was delicious. CPRE can only exist with the support of our fantastic volunteers and members. To help support our work, please j