CPRE Avonside's volunteers have been busy for the past few years campaigning to improve the new Joint Spatial Plan for our area. We've commented on all the plans, helped and advised local groups, and now we're getting ready to speak at the Examination in Public.
The task is phenomenal, but our priorities are:
that the plan should deliver the right numbers and type of housing to meet people's needs, including enough properly affordable housing;
prioritise urban, suitable brownfield, land that is already connected to public transport;
be supported by a detailed and forward thinking Sustainable Transport Strategy; and
protect local landscapes and countryside for everyone to enjoy.
We fear that the plan will do the opposite, and putting this area at risk of:
building houses that are not well sited and are remote from public transport, supported by an inadequate transport strategy, leading to increased commuting;
not providing enough properly affordable housing where it is needed, including in rural towns and villages;
damaging our health by increasing air pollution in our already polluted cites, as well as carbon emissions;
putting our economy at risk by increasing congestion and journey time; and
damaging local countryside, vital to supporting our mental health and fundamental to what's special about this area.
If you are able to help our campaign please follow the link below for details of how to donate. Thank you to all our supporters. We wouldn't be here without you.
Click here for more information on how to donate
Join us for our next Geology Walk in Portishead on Sunday 21st July
Mark Howson, professional geologist and CPRE volunteer, is an extremely knowledgeable and experienced practitioner who can reveal the wonderful stories behind the rock formations that can clearly be seen along the Portishead coastline.
Mark's last walk for CPRE was extremely popular and sold outquickly, so make your reservation quickly. We will be asking for a donation of £5 per adult on the day.
For more details and to book, click here
Taking a stand against Light Pollution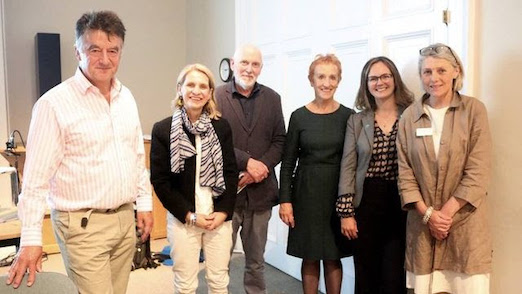 Sophie Spencer, CPRE Avonside Director, spoke at a Starlit Skies 2019 event in Bath to highlight the damage that light pollution is doing to our glorious night's sky, and what CPRE is doing to raise awareness. The Starlit Skies Alliance is an influential group including CPRE Avonside, Bath Astronomers, the Commission for Dark Skies, Cotswolds AONB and William Herschel Society. The MP for Bath, Wera Hobhouse, attended the event to hear the concerns.
Picture: Charles Draper, The William Herschel Society; Wera Hobhouse, MP for Bath; Tom Harper, Freshford and Limpley Stoke Environmental Working Group; Cate Le Grice Mack, CPRE Avonside and Cotswolds AONB; Sophie Spencer, CPRE Avonside; Penny Williamson, Traditional and Rural Skills.
Challenging the economic claims for the expansion of Bristol Airport
CPRE Avonside has commissioned a report from the New Economics Foundation to challenge the economic claims made to support the business case for the expansion of Bristol Airport. It will also look at the the proposal in terms of its carbon impact, its compatibility with local and national targets, how it fits with the Government's recent commitment to zero carbon by 2050 and other proposed airport expansions, such as Heathrow. We will publish the report in the first two weeks of July and will be sending to all local decision makers.
North Somerset Council have yet to come to a final decision on the expansion, and we understand that if it is approved it will also be referred to the Government's national planning team. We very much hope that this report will help to influence and inform decision making on an application which will have huge impacts for the whole of our area and beyond.
If you are concerned about the impact of an expanded Bristol Airport on this area and beyond, please consider objecting to the Planning Application if you haven't already. Comment here
Please consider donating to support our campaigning on the airport and other important local issues