Starry Skies Events Postponed
We didn't factor in Covid-19 as one of our 'risk' factors when planning the Starry Skies project, but here it is and, as a result, all our events and activities associated with this campaign have been put on hold until later in the year. We have decided to run the planned events between January 2021 and March 2021, to coincide with the darkest time of the year, and the national CPRE Star Count, which is usually in the last week on February.
Deborah Griffin, our Starry Skies Project Manager, has been a wonderful addition to our team. She will take up the Starry Skies baton again in October, when we will put in place plans and publicity to make the most of our wonderful night skies, and highlight the threat they face from unnecessary and preventable light pollution. We've already started forging partnerships with local organisations, and these will continue.
We had events in development at Bath City Farm, Bristol Festival of Nature, in South Gloucestershire, and at the prestigious Royal Astronomical Society National Astronomy Meeting in Bath in July, as well as various talks etc - all of which are postponed. We look forward to seeing you at some of the rescheduled events for more star gazing and counting next year!
Here in Bristol and Avon, your Director, trustees, volunteers and Executive Committee will continue our work from home, planning for the future, working through videoconferencing and keeping in close touch with the District Groups. CPRE'S National Office is still operating with staff working from home and will continue to provide services to the best of their ability.
In the meantime, we wish you and your families well at this difficult time, and thank you for continued support of CPRE and our beautiful countryside. Some of us are unable to enjoy our favourite countryside spots in the normal way, but we appreciate what we have available to us locally so much more. We are, more than ever, determined to protect countryside for everyone.
Another application from Bristol Airport
Bristol airport have applied to the Department of Transport (DoT) to extend their night flights (currently limited to the summer season) to all year round; citing congestion and expansion of flight numbers. We have responded to the consultation issued by the DoT pointing out that the rejection of the Bristol Airport expansion plans by North Somerset Councillors on 10 February (and subsequently ratified on 18th March 2020) means that capacity will not currently exceed the maximum agreed (10 million passengers per annum (mppa) not 12 mppa as proposed in the expansion plans).
We believe that this renders the application invalid as it is based on a false assumption of increasing capacity, beyond the growth allowed by planning policy in North Somerset. What is more, the key reason for refusing expansion at this time was the declaration by North Somerset Council of a climate emergency, and the development of a Climate Strategy.
Expansion of the airport is incompatible with both the local climate strategy and the national UK agreement to bring carbon emissions to net zero by 2050. The UK aviation industry will need to play their part in meeting this agreement; and North Somerset Council, quite correctly, believes that airport expansion at this time is incompatible with both the national net zero commitment and their own local declaration and strategy on Climate Change.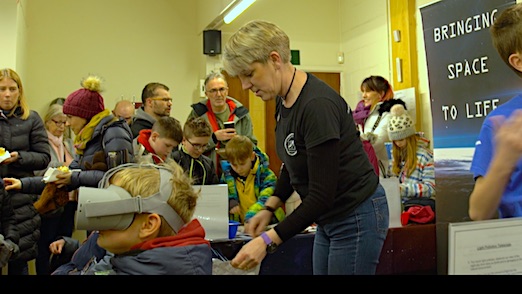 Jo Richardson, Space Detectives
Photo credit: Josh Dury
February Star Count event and Annual General Meeting
Our event in Hutton on 27th February was wonderfully well attended both by CPRE Avonside members, and local people from Hutton and the North Somerset Area.
We had a fascinating talk from Chris Sperring MBE; and everyone enjoyed the 'Bringing Space to Life' activities put on by Jo Richardson (pictured) of Space Detectives. Local astronomers were on hand with their telescopes and advice, and we completed the national CPRE Star Count, with an impressive 17 stars viewed with the naked eye within the Orion Constellation.
We also held our AGM, and made some important changes to help our organisation move forward with modern times. We agreed a new constitution, which allows us to perform internet banking, and make some decisions via electronic means (all the more important in these restricted times).
We also voted unanimously to change our name to CPRE Bristol and Avon. Thank you to everyone who responded with name suggestions. We did lots of canvassing, including with groups outside of CPRE Avonside, and this was the most popular choice. It helps locate us with Bristol at our centre, while representing the countryside we care so deeply about.